Date: October 22-25, 2022
Language: English
Expected Participants: Students, student advisors, researchers, investors, and other attendees of UV2022
UV2022 Student Forum will be held online.
Universal Village (UV) is a new concept proposed by MIT's UV program. UV exemplifies an ideal future society that addresses the current challenges cities are facing in the process of development and pursues harmony between humans and nature through the wise use of technologies.
At the present time, the GDP increase brought by rapid urbanization comes at the cost of high metabolic rates, high waste per capita, severe lack of resources, heavy pollution, and waste siege. Furthermore, this lifestyle supported by environmental degradation and soaring resource consumption does not improve our health and wellbeing. According to a report in the European Journal of Preventive Cardiology in 2013, today's adults are less healthy than their counterparts of previous generations.
Current smart city solutions cannot fundamentally solve these problems, and they sometimes bring about unintended complications or paradoxical consequences. Subsystems of current smart cities, such as Smart Healthcare and Smart Homes, are still designed independently without considering the potential interaction among these subsystems. Present smart cities are not capable of providing an integrated, coordinated, and inclusive solution for future sustainable development.
The UV concept is aimed at raising our attention to these challenges and making us reflect on our path of development. International Conferences on Universal Village are expected to establish an international platform for interdisciplinary collaboration on UV development, including theoretical exploration, scientific research, and framework design. UV International Conferences call for representatives from academia, industry, civil society, and government to share their achievements and visions on how to address these global challenges.
In response to the calling of UV International Conferences, UV Student Forum has been founded to increase awareness among the young generation about the challenges and dilemmas humans are facing, cultivate young people's creativity and leadership, encourage students' entrepreneurial enthusiasm, and contribute to building a better world.
UV Student Forum will follow IEEE UV2022's theme of "Post-Pandemic Reflection on Health, Harmony, and Sustainability: Mobility and Virtual Connection; Diversity and System Efficiency; Responsiveness and Resilience; Inclusiveness and Integration."
In this session, students will exchange their research, designs, experiences, and visions with peers, host round-table discussions, propose future plans for UV student clubs and participate in interactive activities. Specifically, UV2022 Student Forum will feature the following events: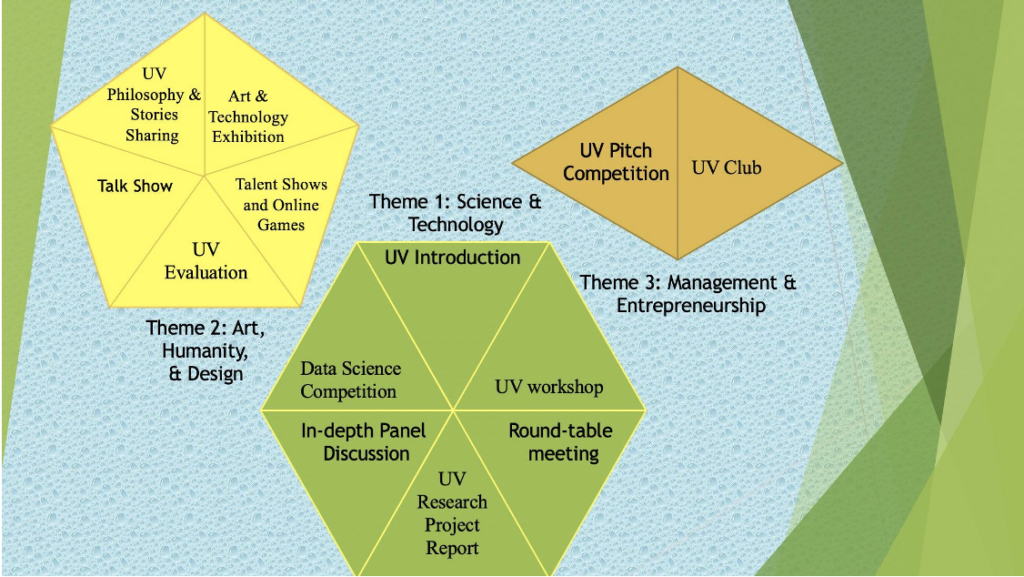 UV Student Forum featured speakers will include (1) Professionals and researchers who will introduce their ongoing research and provide an overview of current technologies, (2) Representatives from different vulnerable groups and communities who will share their stories and special needs, (3) Innovators who will share their visionary world-changing ideas, (4) Leaders of different communities who share a common mission to promote human-nature harmony.
UV2022 Student Forum includes the following events:
Theme 1: Science and Technology
Module 1: UV Introduction
●   UV Introduction Video or Presentation slides
○  Students are welcome to submit presentation slides, pre-recorded presentations or video clips to share their understanding of the UV concept and their visions for UV future development.
For your information, here below is some background information of UV:
●   UV Concept Introduction
○   UV Concept paper
●  UV Subsystem Introduction
○  Smart Home and Community
○  Smart Medicine and Healthcare
○  Intelligent Transportation Systems, Urban Planning and Crowd Management
○  Smart Energy Management
○  Smart City Infrastructure
○  Smart Response Systems for City Emergencies
○   Smart Environmental Protection
○ Smart Humanity
Module 2: UV workshop
This workshop will present a systematic introduction of the UV concept and UV subsystems.
Module 3: Data Science Competition
UV 2022 Student Forum will feature the following two data science competitions:
Algae Identification which contributes to coral reef and ocean protection
Scrap Detection and Localization which contribute to effective resource gathering and scrap reuse
The competition aims to 1) increase students' awareness of the significance of algae to water quality, coral reefs, and the ocean, as well as the importance of sustainable material cycles through reducing, reusing, and recycling, 2) develop affordable and efficient solutions to real-world problems through proper use of algorithms and models, and 3) encourage innovations from the young generation and explore a new way of life in the post-pandemic era.
Module 4: UV Research Project Report
Students will be invited to present their ongoing research work, including system evaluation, framework design, and algorithm development relevant to various UV topics.
Module 5: Round-table meeting: Technology News, Social Hot Topics, Future Vision
Students will participate in round-table meetings to discuss featured topics, including the latest news on cutting-edge technologies, social hot topics, and how these emergent technologies are changing our lifestyles.
Module 6: In-depth Panel Discussion
UV Student Forum will invite renowned academic researchers and seasoned professionals to share their perspectives and insights on the following topics:
Exploring and understanding typical challenges of lifelong learning
Facilitating adults to identify, probe and change assumptions, values, and beliefs that shape how they think, act, and learn
Empowering vulnerable groups to develop the capability of reflective, proactive and transformational learning and improve their quality of life, through the power of education and technology
Theme 2: Art, Humanity, and Design
Module 1: City Evaluation
Students will report their findings during an evaluation of smart cities based on UV Indices: quantitative indications of cities' smartness, efficiency, coordination, safety, environmental qualities, and inclusiveness
Module 2: UV Philosophy & Stories Sharing
UV Student Forum encourages participants to share their experiences in this smart era and their perspectives on how to solve the challenges that are introduced by emergent technologies, such as new legal, social, and ethical challenges posed by applications of AI.
Module 3: Talk Show
This year's talk show mainly aims to empower different vulnerable groups and communities, make their voices heard by the world, and improve mutual understanding in our society. We encourage representatives from these groups who had various experiences to share their stories in a warm-hearted and humorous way.
Participants are also welcome to share their funny experiences with technology, such as quarreling with Siri.
Module 4: Art & Technology Exhibition
As we are expanding the boundaries of technology, there has been a surge of applications of technology in the field of art, such as digital arts, non-fungible tokens (NFT), and AI / VR / AR-enabled artifacts, which dramatically revolutionizes our society. Participants are encouraged to submit their creative designs or products that represent the interaction between art and technology and explore how such interaction can innovate future lifestyles and improve quality of life.
Module 5: Talent Shows and Online Games
UV Student Forum will hold featured sessions where participants can share their talents in different art forms that express their understanding of the UV concept. The art forms include, but are not limited to, UV photo/painting gallery, UV short videos, UV poems, UV theme songs, and UV dance. Participants will also enjoy interactive online games with peers.
Theme 3: Management, Entrepreneurship, and Future Development
Module 1: UV Pitch Competition
UV Student Forum also invites all students to share their perspectives on what is really needed in this smart era and what is the roadmap for UV development in order to achieve human-nature harmony. UV Student Forum encourages students to share their entrepreneurial ideas and to transform their ideas and research results into meaningful products that can make the world better. Student Entrepreneurs will be invited to share their experience on how to start and build a business from the bottom up. Students who have mature entrepreneurial ideas are invited to apply for UV Pitch Competition.
Module 2: UV Club and Roadmap
UV Student Forum encourages students to develop leadership skills and to establish UV Clubs, which aim to enhance human-nature harmony through wise use of technology, in their own schools. Student leaders from different groups, which share similar missions as UV, will be invited to share their experiences on how to lead their organizations. UV Student Forum aims to establish an international alliance of different student organizations or clubs and host a series of interesting events, including virtual seminars, hackathons, and panel discussions.
All participants will be invited to share their perspectives on the future development of the UV Student Forum. UV Student Forum welcomes suggestions for how to implement these visions specifically and how to run UV Clubs sustainably and continuously.
INSTRUCTIONS FOR STUDENT FORUM PRESENTATION SUBMISSIONS
All applicants can submit presentation abstracts and presentation materials for the Student Forum session. Please submit a one-page abstract (200-300 words), which briefly introduces your presentation content and presentation materials (e.g. 20-25 pages of PowerPoint/PDF slides, UV Introduction Videos, UV Poems, UV Theme Songs) to UV2022 Paper Submission System (https://easychair.org/conferences/?conf=ieee-uv2022).
Please follow the instructions in "Instructions for Paper Submission" (https://docs.google.com/presentation/d/1wX84JKVxpjbAMpk24Wrz8dC7PZ_Af-sRHYI2jB-Ahkw/edit?usp=sharing) to create an EasyChair account and make a new submission to the system.
Please select [SF] UV Student Forum under UV Forum when selecting Topics. Please also select UV PANEL/UV FORUM/UV WORKSHOP when selecting the Category of your submission files which include both your presentation abstract (need to submit as a separate file) and your presentation materials.
Authors of accepted presentation abstracts (or at least one of the authors) are expected to register and present their ideas at IEEE UV2022.
IMPORTANT DATES FOR STUDENT FORUM SESSION
| | |
| --- | --- |
| Presentation abstracts due | September 15, 2022 |
| Notification of abstract acceptance | September 25, 2022 |
| Final presentation materials due | October 02, 2022 |
UV Student Forum, proposed, hosted, and organized by students, is a great platform provided by the International Society of Universal Village that encourages the young generation to contemplate the future of the human race, to work together to find solutions for imminent problems, and to achieve sustainable happiness through wise use of technologies.
UV Student Forum sincerely welcomes your participation and ideas! We are looking forward to your vision and leadership!
uv.student.forum@universal-village.org